Survivors!
We used this month's meeting to celebrate as survivors!
A big THANK YOU goes out to Pam for planning fun games for us to play!
The party would not have been complete without the wonderful treats and beverages: delicious red velvet cake, cupcakes topped with pink cancer ribbon sprinkles, and pink lemonade!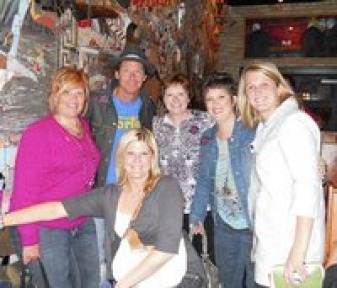 The evening after our support group meeting, some of the survivor sisters took part in a breast cancer discussion panel.
Afterwards they decided to celebrate by stopping in at the HoDo Lounge in downtown Fargo.
There they saw Ty Pennington from Extreme Makeover Home Edition!
Ty accepted a "Save 2nd Base" pin from Survivor Pam; and Ty was willing to take a picture with the group!
How exciting!!